2A City – Architecture Movie Awards, Competition News, International Architecture Competition
June 10, 2022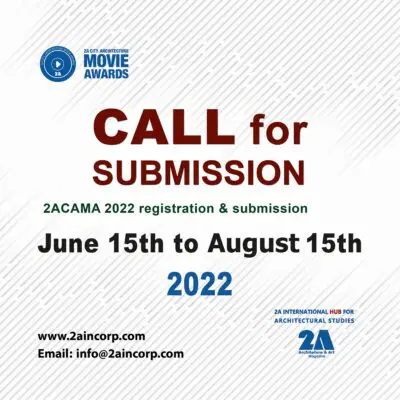 2A City-Architecture Movie Awards – Blending Movies and Architecture
Architecture speaks through films. Sets, houses and cities imply settings where filmmakers enclose people, society, lives and emotions. This connection is unusual, amazing and overwhelming. Architecture intertwines with its natural and man-made settings, colors, textures, and the flow in and around architecture to govern the theme of a film.
The 2A City-Architecture Movie Awards
To applaud this beautiful relationship between architecture and cinema, Ahmad Zohadi has imagined the 2A City-Architecture Movie Awards, as part of the 2A Global Architectural Festival, Dubai, 2022. Throughout this great festival, you may be an opportunity to explore some nifty architectural films and documentaries. Furthermore, you will be able to explore the successes, failures, as well as the inspiration behind influential architects, designers, filmmakers and their innovative projects.
The relationship between architecture and cinema
At the 2A City-Architecture Movie Awards, we believe that architecture and film are two distinct art forms that are achieved through the combined efforts of a team of specialists. But curiously, these art forms come together to offer a magical journey into the world of movies. For movies, architecture is like teleportation.
Without any graphics or a scene to resemble or to elaborate the narrative, no one would be able to understand the look and feel that the story writer wants to convey. What becomes imperative is the skill of the designers to create an authentic setting to pile the story on. So, ultimately, what the 2A Global Architectural Festival would do best is to highlight the strong connection between film and architecture by organizing the two great events under one forum, the 2A Continental Architectural Awards and the 2A City-Architecture Movie Awards.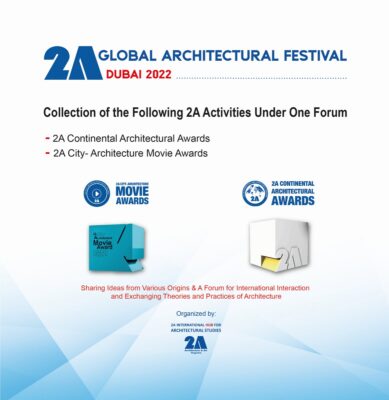 The theme – "Creating a creative atmosphere"
Since its inception, the 2A City-Architecture Movie Awards has now claimed to be one of the most dominant architectural film festivals in the world. Showcasing more than a few documentaries and international feature films, this year's festival plans to follow the theme "Building a Creative Atmosphere". The simplicity of the theme, "Building a Creative Atmosphere" would promote content expressing different cultures.
The film is a game of expressions and story writing. However, architecture is a bold and enduring identity that speaks for itself through design, planning and built structures. The two share a relationship that goes far and is both thoughtful and thoughtful. This edition of the event aims to cherish new developments and new ways in which architectural cinema enables social engagements.
Let's take a look at the categories
Below are some categories that a winning project may encompass.
The structural framework, plot and scenario of the film should be used well to influence the social, cultural and economic aspect of architecture.
Documentaries that can cover famous architects, designers and planners who inspire newbies to boost their start by learning about the innovators who came before them.
Films that can focus on commercial and promotional marketing of architecture and built projects.
Films that can tell architectural stories and communicate artistic ideas in a unique, interesting and easily perceived way in the form of animation, video games, virtual reality and augmented reality.
Jury and Selection
The selection of deserving projects will be made by a panel of esteemed judges who are experienced consultants and film experts. The jury's verdict cannot be contested. However, the measure of success, ultimately, would be how well a film project inspires its target audience.
Here is the list of our competent arbitrators:
Pouran Derakhshandeh
Elis Feiersinger
Gul Kacmaz Erk
Chang Huai Yan
Abbas Gharib
Toby Roseau
Back to offline world
2A magazine, this year, is doing its best to work with the complex and burdensome circumstances of COVID, to make the dream of holding an "offline event" possible. So yes, after two long, unfortunate years of COVID, this year's event may look and feel different from years past.
We invite you to register:
We welcome your artistic contributions from:
June 15 – August 15
Types of submissions allowed:
Short films : Up to 420 seconds (7 minutes)
Movies: More than 420 seconds
Submit to: www.2aincorp.com
To hurry up!
2A City – Architecture Movie Awards images / information received 100622
Previously on e-architect:
2A City – Architecture Film Award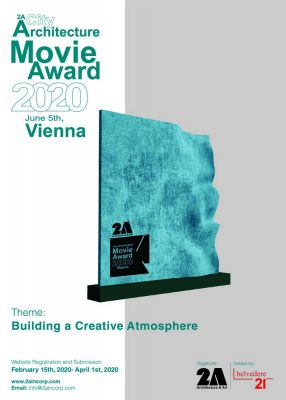 2A City – Architecture film award – 2ACAMA
2A Continental Architecture Award 2020
Architecture competition
Architecture competition: links
Current / Recent Architecture competition on e-architect – architectural selection below:
Miami Floating Housing Competition 2022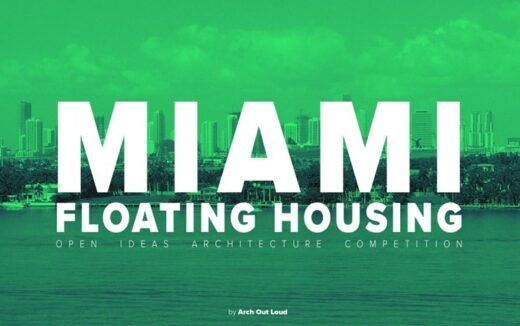 Miami Floating Housing Competition 2022
Dedalo Minosse International Building Commissioning Award



Dedalo Minosse International Prize 2022
In the Rabbit Hole Design Contest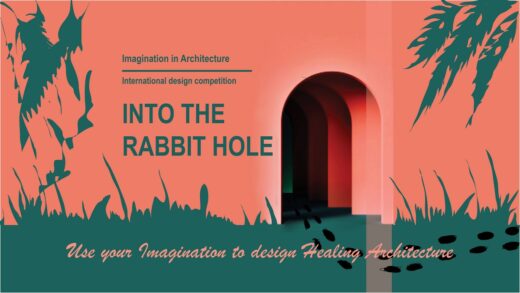 "Into The Rabbit Hole" Architecture Competition
Essay Writing Competition, 4th Cycle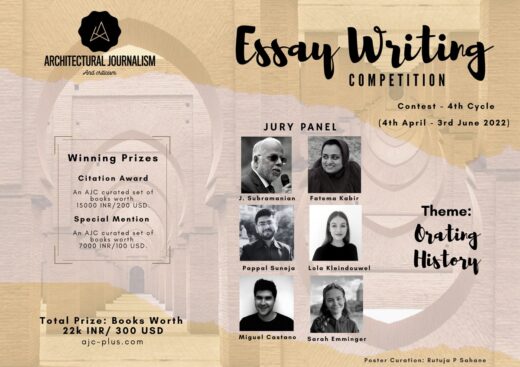 Essay Writing Contest
Architecture competition
Comments / photos for News 2A City-Architecture Movie Awards 2022 welcome page