This uncle-nephew road movie sees Joker Oscar-winning actor Joaquin Phoenix meets his opponent in child actor Woody Norman. The two of co-star Gaby Hoffmann, Irish cinematographer Robbie Ryan and writer-director Mike Mills all deserve an Oscar for this sweet but deep film about family, forgiveness and the future.
Phoenix plays Johnny, a radio reporter who receives a phone call from his distant sister Viv (Gaby Hoffman) while on a mission in Detroit. There is an emergency and Viv needs Johnny to come to Los Angeles to care for her nine year old nephew, Jesse (Woody Norman) as she travels up the coast to Oakland to persuade the boy's father, Paul. (Scoot McNairy) to seek treatment. Johnny is on the plane right away.
Unprepared for the responsibility, Jesse's acting out, and the rest of the dynamic guardian-child, Johnny gets off to a rough start in his new role as he tries to juggle his work schedule with the rigors of daily life of caregivers. When he learns that he has to return home to New York for the last of a series of interviews he has with children, Johnny asks Viv if Jesse can accompany him. And so begins a journey that will change their entire life.
Mills' Last is one of those films devoid of great drama but manages to say a lot of important things about what it's like to live and love – the young Johnny interviewees in real life add to this. 'authenticity. If you enjoyed any / all of Mills' previous releases – 20th century women, Beginners, Bug – then go! Go on is a must. If you're unfamiliar with her work and are patient enough to sit back and watch a black and white story unfold at her pace, then this is a great place to start. There is a good chance that your heart will shine afterwards.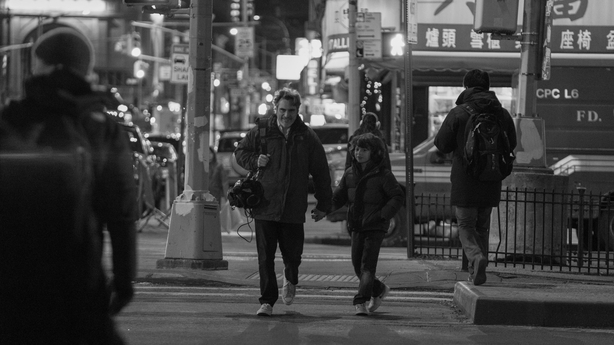 Phoenix and Norman delivered one of the screen partnerships of the year – completely believable, saccharin-free, and harnessing the magic of Mills' storyline about the little moments we so often take for granted. There is also great support for Gaby Hoffmann as true north in Jesse and Johnny's life. As it was appropriate that as a child, she was also part of another special film on the ties that unite – Uncle Buck.
As the aforementioned Mr. Russell, go! Go on does wonders for your sense of gratitude and is perfectly in sync for the season unfolding there. Johnny claims that "we are forgetting everything" but he is wrong – and it will not happen here. Wrap your arms around the memory and any other good memories that come to mind.
We need your consent to load this YouTube contentWe use YouTube to manage additional content which may place cookies on your device and collect data about your activity. Please check their details and accept them to load the content.Manage preferences