We've all been waiting for this moment since the game was first announced. Time didn't seem to pass fast enough, but the day had finally arrived! Splatoon 3 officially released on September 9. So now that the game is out, let's talk about the Splatoon 3 Beginner's Guide!
But this isn't your ordinary regular version; in fact, there are some awesome new updates and features coming with it. As if we weren't excited enough. It just needed to get better!
As soon as Splatoon 3 hit the market, it took the world by storm. Can you guess how many copies of the first game were sold in 2015 when it hit the market? You will be shocked to know. Think of any number, and we can tell you it won't be high enough!
Alright, so not that we piqued your curiosity; the number is 18 million copies! This means that Splatoon 3 will surely exceed this figure!
The game has one of the cutest and fanciest character designs. Throughout the game, players will be able to play as Inkling or Octoling. Can you guess which real animal they are based on? Well, as you might have guessed, the characters are inspired by Squids and Octopus.
What's new in the game
Previous Spaltoon games, including the multiplayer game, were mostly about fighting to capture the area. Interestingly, the new game will take inspiration from its predecessors, but it will also add some, which is really a good thing to hear!
While the essentials of Territory War and the rules will remain pretty much constant, there will be an introduction of a spawn drone, which is really a welcome change to the game. Additionally, Anarchy Battles will resume battles previous ranks in the old Splatoon 2 game.
A new version of weapons
We can all agree that weapons play a vital role in the game, and you will be shocked to learn that the way to unlock weapons in the game has changed. Now don't worry, it's not that hard! If you recall, in the previous game, all you had to do was pay cash.
It won't work anymore! Now, to upgrade weapons, you will need Sheldon Licenses, which you can only get when upgrading your characters.
How to buy weapons
When you want to buy weapons in the game, you will need to go to the one and only Ammo Knights store in Splatsville. After that, you need to use the Sheldon Horseshoe Crab. Once this is complete, players will be able to donate a single Sheldon license for a weapon.
But that's not all, and if you pay 3 Sheldon licenses, you can buy a weapon that technically cannot be opened for your level. Also, if you end up paying a single gold Sheldon license, you can buy a weapon that is above your level.
All weapons and gear in Splatoon 3
Many weapons have been included in the new Splatoon 3 game, each better than the last. So if you want to review them all, keep reading.
Shooters
Sploosh-O-Matic

Splash

Splattershot Jr.

Splash-O-Matic

H-3 nozzle

0.52gal

Jet silencer

NZap '85

0.96gal

Aerospray MG
Duals
Splat Dualies

Dappled Dualities

Glooga Dualies
Blasters
range blaster

Luna Blaster

Clash Blaster

blaster
Roller skates
Dynamo roller

golden dynamo roller

Splatter roller
Chargers
classic squiffer

E-liter 4k
Splashes
Heavy splashes

Hydra Splash
Paint brushes
Special weapons
tacticcooler

Reefslider

wave breaker

Zipcaster

big bubbler

crab tank

killer moan 5.1

ink vacuum cleaner
New Fun Modes
As we mentioned before, there are tons of new items that will be a welcome addition to the game. So before you play the game yourself, check it out! One of the most critical parts of the new Splatoon 3 would be the brand new Tricolor Turf Wars. If you think that sounds cool, wait until you hear what it entails!
Tricolor Turf Wars is a brand new part of the game and will be introduced as part of the highly anticipated Splatfests. But of course, that's not all! There are several other modes in which the game will be featured, including Tabletturf Battle. Now you might be curious what that is.
Well, the point is that Tabletturf Battle needs to be more tactful and thoughtful rather than just fighting. This is mainly because Tabletturf Battle is a one-on-one card game. We don't know about you, but we're very excited to try them!
The tricolor turf wars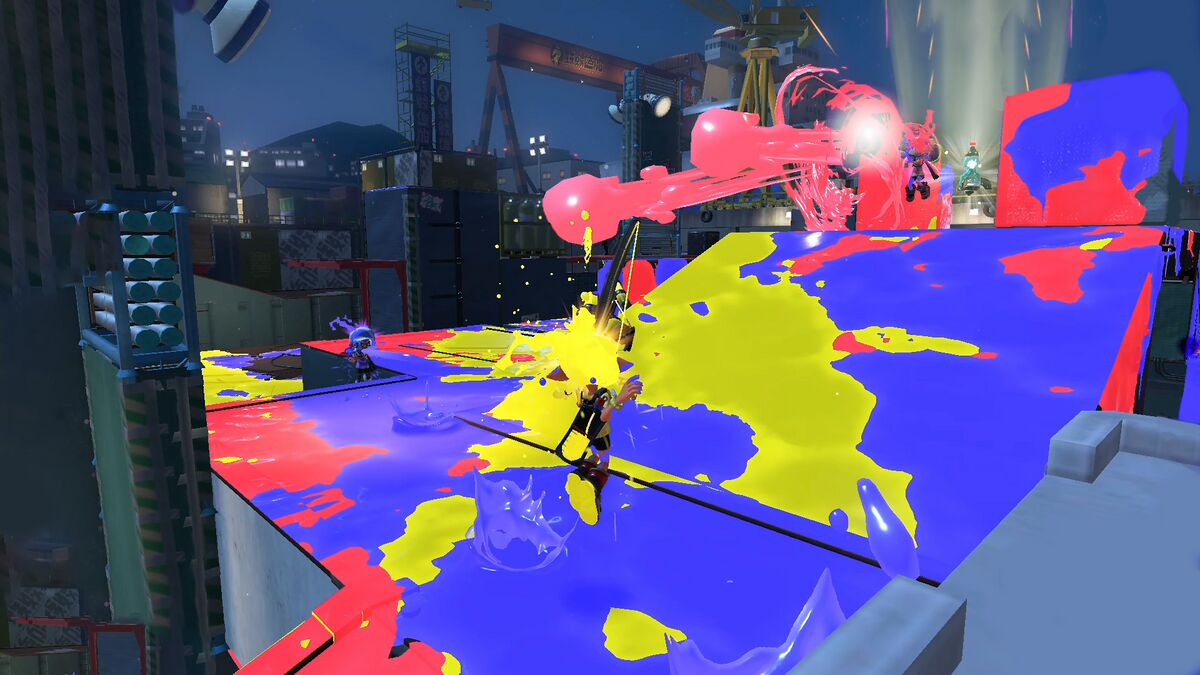 One of the most intriguing and significant updates that have emerged from the new Splatoon 3 is the Tricolor Turf War mode. Although we've mentioned it several times, we haven't told you what it will look like, so let's fix that!
In this mode, unlike most conventional games, you will face two teams at once rather than just one. This will of course add a whole new layer of intensity! What ends up happening is that one team will start in the middle of the zone, while the other two will be on either side.
Of course, that would mean that this team would end up having a tactical advantage, so most players would want to be on this team, right? Well, the thing is, to keep things fair, the central team has a huge handicap.
What ends up happening is that this team won't be able to use Ultra Signal, while the other two teams have the luxury of using it whenever they want. If you know the game, you know the importance of Ultra Signal. He actually awards 300 points to the player who captures him, and his entire team gets 2500 points.
So, as you might guess, the main goal of the middle team is to protect the Ultra Signal from the other two teams. Think of the mode as capture the flag but with the addition of ink throwing and influence!
The Battles of Tableturf
Now let's talk a bit about the brand new and highly anticipated Table Turf Battles update. The mode is therefore very different from what we are all used to, so we will definitely step out of our comfort zone!
Now, the mode actually comes in the form of a mini-game that players will be able to access. It is mainly card-based. The gist of the game remains pretty much similar to every other game Splatoon has to offer. Your main goal will be to cover as much area with your ink.
Let's see how you will play the game. All table battles will be played in a series of 12 moves. However, what is interesting is that both players will be playing at the same time. Each player will receive 15 cards and a very specific color of ink which they will use to capture the area.
Interestingly, both players will actually be able to save 16 decks at the same time. Another thing to know is that the cards and the ink should be placed side by side. Now, this rule can be very annoying sometimes. So is there a way around this?
Well, assuming individuals have enough saved special attack points to activate a special type of move. Players may be able to place the card on the other player's ink. Talk about a power move!
Some new moves
We talked about all the new weapons the game will have. So that means we will definitely have some new moves that go with the weapons.
There are a ton of new movement mechanics that will be in the game, which include but are not limited to Squid Bounce and Squid Roll. All of this can only be done when a player is in squid formation. To achieve this you will have to go to the very top and quickly press ZL.
This will allow you to be more fluid in the game and you will be much faster than before. If you want to do the Squid Roll, you need to press B while continuing to swing in the general paint area.
Personalization
Finally, let's talk about three main tips in our Splatoon 3 beginner's guide that you need to know before playing.
Splatoon 3 actually lets you customize your character before you start playing. You can give your characters a variety of distinct characteristics, including skin tones and hair color, among other things. Thus, your character will have an original look that belongs only to you!
Start with hero mode
When you start playing the game, there will be a learning arc for you. That's why it's recommended to always start with hero mode and then get familiar with other parts of the game.
You can fight your friends
The third game in the Splatoon world brings a unique twist to their old games. Now you can actually have private matches with your friends. It's a great way to get familiar with the game and, of course, to have some friendly competition.
We hope our Splatoon 3 Beginner's Guide was able to help you get started in the game!
Was this article helpful?
Good work! Please give your positive review
How could we improve this post? Please help us.